April 24, 2013
Douglas K. Shaw, Founder/Chairman of the Board and CEO of Douglas Shaw & Associates, Inc., Releases "The Rules of Fundraising"
"Rules of Fundraising" is a guide to aid Christian Nonprofits with Securing Funds to Support their Mission
NAPERVILLE, Ill., April 24, 2013 /PRNewswire-iReach/ — Within The Rules of Fundraising, author, Douglas K. Shaw, Founder/Chairman of the board and CEO of Douglas Shaw & Associates, Inc. (DSA), shares what he has discovered and offers these pearls of wisdom as his way of giving back to a community of dedicated and caring women and men who often work unnoticed, while continuing to change the world one life at a time.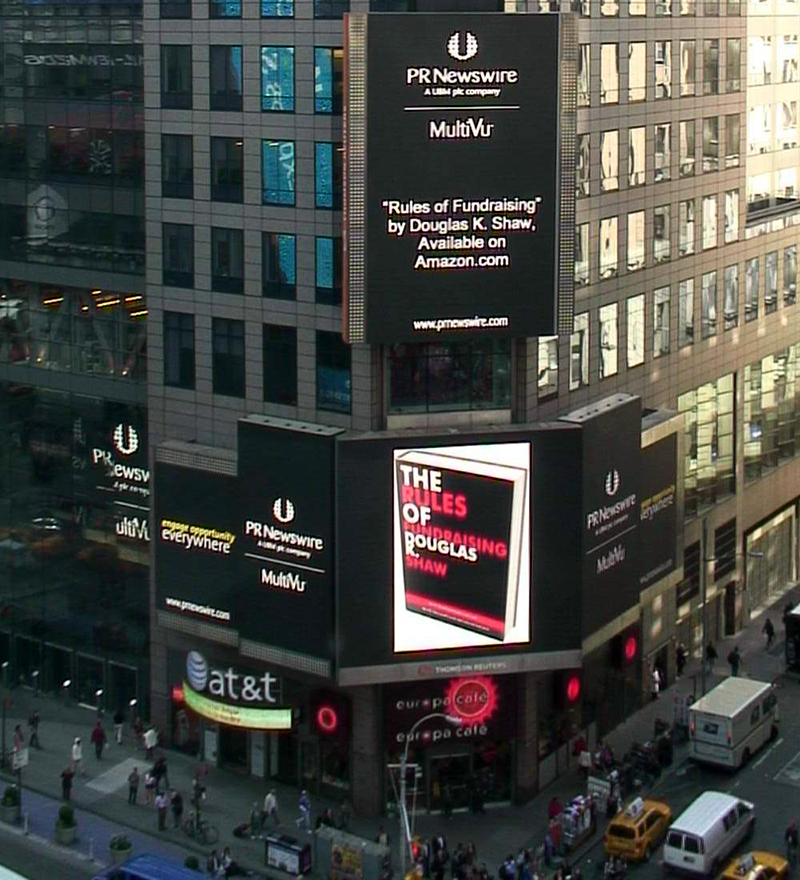 On Tuesday, April 30th, at the Christian Leadership Alliance's National Conference in Anaheim, California, DSA is hosting a private reception to highlight the release of The Rules of Fundraising. The Rules of Fundraising is an authoritative guide for Christian Nonprofits that provides insights from Shaw's years of assisting national organizations secure funds to help support their goals. DSA is an active member of the alliance which unites, trains, and equips Christian leaders to think higher for greater kingdom gain.
The rules were written for development officers who need an old friend to turn to for expertise as they begin their journey, to re-orient the veteran fundraiser who wants to take the next step in his/her professional growth, for presidents or executive directors who need a road map for leading their development staff while learning the importance their role is in securing funding for the ministry they lead and also for board members who are aware of and want to become even more familiar with the best practices of fundraising.
Dr. Erwin Lutzer, Senior Pastor of the Moody Church, writes that "this book has compelling insights into relationships that can be developed for the larger work of serving the Kingdom of God. Here there are principles to be followed and pitfalls to avoid. And, in the process you will read interesting stories that help all of us learn practical lessons for relating to others."
Jerold Panas, Executive Partner at Jerold Panas, Linzy and Partners, writes "you don't have to be in direct mail to prize this volume. Doug has made a valuable contribution to the field and our profession. This book is a must. Get one for your desk, for quick reference, and for your library."
Gideon Strauss of the Max De Pree Center for Leadership at Fuller Theological Seminary says, "Doug Shaw distills thirty years of fundraising experience in thirty-five succinct rules. To a rookie fundraiser like myself, this book manages to offer both a clear-eyed definition of the realities of this calling, and a simple but robust guide to the practices that make for effectiveness, given these realities."
Shaw's hope is "that you will use this book as a reality check, as a kind of road map to help strengthen you on your journey. After all, it's all too easy to become entangled in the terminology, politics and culture of your own ministry and perhaps lose sight of the well-worn path where others have gone before. The Rules, which are one traveler's gift to another, with stories and examples to help you get to where you feel the road is calling you."
For more information, visit www.rulesoffundraising.com
About the Author: Douglas Shaw is the Chairman/CEO of Douglas Shaw & Associates, Inc. (DSA), a prominent fundraising consulting firm located in Naperville, Illinois. He has more than 30 years of experience raising funds for Christian nonprofits – helping raise hundreds of millions of dollars for more than 300 nonprofit organizations and ministries nationwide.
Book Details: Available on Amazon
Media Contact: Roxanne Westrom Douglas Shaw & Associates, 630.562.1321, rwestrom@douglasshaw.com